Take a Leap of Faith into 2014 – Even if it Scares the Pants Off of You
Take a Leap of Faith into 2014 – Even if it Scares the Pants Off of You
Today, while doing research for an article I was writing about the exciting world of medical malpractice, I read this quote:
"In actual life, every great enterprise begins with and takes its first step forward in faith."
– August Wilhelm von Schlegel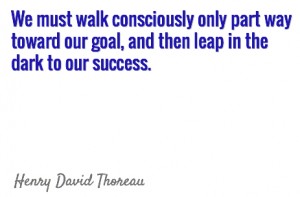 For weeks – OK, maybe months – my father and my boyfriend have been encouraging me to "take the leap" as a writer, to write for myself instead of for others. What I hear when they encourage me to do that is so much confidence in my writing; so much belief in what I can accomplish. I also hear a translation of "write for free instead of for money!" and that scares the pants off of me.
"But, you barely get paid anything anyway," my boyfriend accurately points out. In my mind though, "barely getting paid" is still more than not getting paid to write.
"You have to put the time in first – write the book; write the blog; write for magazines – in order to get the big payoff," advises my father, who has written several songs, a book or two, and has been published for money more than once in his life.
I agree completely, but who pays the bills while I am "putting the time in" writing a book that hopefully someone will want to read and then pays me money? It is a scary and uncertain thing, so I have looked toward God and the Universe for guidance.
In the last six months, I have applied for every single writing job under the sun, truly believing that if I get hired, it is confirmation that I should continue writing for other people, get paid a handsome salary, have my own health insurance, and put my lifelong dream of becoming a best-selling author on hold for another decade or so.
This plan of mine makes so much sense at this point in my life. I have a young daughter. I am a single mom. I need to pay bills. I need to save for my daughter's college tuition that is rapidly approaching in a mere 10 years. I need cowboy boots. I need to pay for ballet lessons and gymnastics classes. I need to travel more. I need to pay for belly dancing classes. I need to buy decent bottles of wine on a regular basis. How is all of this going to happen while I write for myself for free?
God and the Universe clearly have a very different plan in mind. In six months of applying to full-time, part-time and as-we-need-you writing jobs, I have gotten one – count 'em – ONE new client and writing gig. I wrote one fantastic article that the client absolutely loved, paid me very well for my services, and hasn't sent me a new project since. I don't have health insurance. I am not traveling more. I am wearing my 20-year-old purple cowboy boots, and I am taking a hiatus from belly dancing. It was either that or skimping on the wine and, I'm sorry, but I will not subject myself to Two Buck Chuck no matter how broke I am.
Additionally, the Universe has been sending me a zillion signs that I should take the leap of faith and write for myself. FAITH. It all boils down to that – faith in myself and in my ability to do what more than 200,000 people in the United States did this year – write a book and get it published.
So, as you leave 2013 behind and start a new year with fresh aspirations and lofty goals, I offer these quotes of inspiration for you to do whatever it is you feel in your soul that you need to do in this short lifetime. And, if you want to send donations to my daughter's college fund or for my new pair of cowboy boots as I embark on my own journey of faith and writing, I will be happy to give you access to my deposit-only PayPal account.
Wishing you a happy, fulfilling, faith-filled 2014.